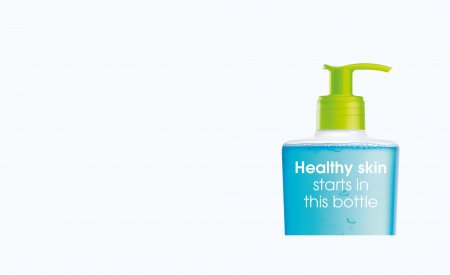 Oily to acne-prone skin hygiene advices
HEALTHY SKIN starts in this bottle
Our dermatological accompaniment for your oily to acne-prone skin
Reducing pimples starts with cleansing combination to oily skin
Shiny skin, oily skin, pimples and blackheads… How do you keep them all under control? Can you even get rid of them? For women and men, adults and teens, daily skin hygiene is the first step in an effective skin care routine for combination to oily skin. Washing away impurities and removing dirt morning and night is the only way to clear pores and eliminate the bacteria that lead to pimples. Gentle cleansing care helps to restore your skin's balance and keep blemishes away.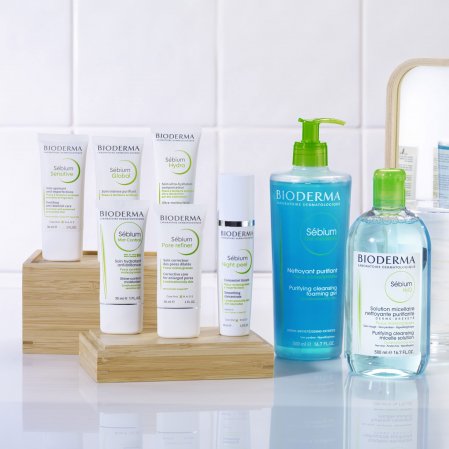 Hygiene & skincare
Combination to acne-prone skin
The Sébium range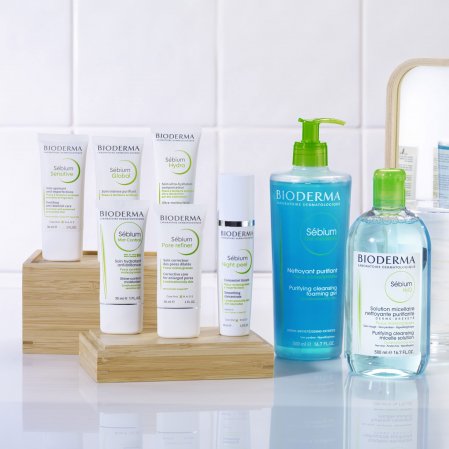 The skin changes during adolescence: it becomes thicker, shiny, blemishes appear to a varying extent and sometimes remain into adulthood.
BIODERMA's solution: Sébium, a range tailored to oily and acne-prone skin.
The Sébium range has cleansing and care products that are specifically recommended by dermatologists: face cleansers for oily skin (foaming gel, micellar water, soap bars, etc.), anti-blemish creams, moisturisers for acne-prone skin, and more. Choose your routine!