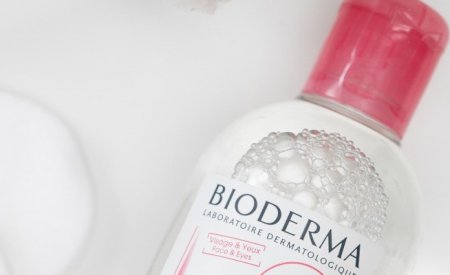 Micellar Water
Micellar water, an innovative cleanser pioneered by Bioderma to cleanse and protect your skin health. 
All about Bioderma Micellar Water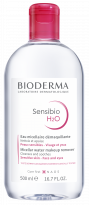 Leave-on daily cleanser
Sensitive skin Normal skin
Micellar technology
Sensibio H2O
The pure, original skin soothed and freed from make-up and pollution.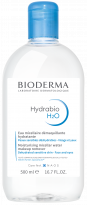 Leave-on daily cleanser
Dehydrated sensitive skin
Aquagenium™ patent
Hydrabio H2O
The dermatological micellar water cleanses, removes make-up, moisturises.
Purchase your Bioderma Micellar Water Online
Every skin type needs to be cleansed regularly with cleansers that match its characters. Failure to cleanse the skin everyday or using the wrong products to do so can negatively impact skin conditions. Bioderma as the creator of the world's first micellar water in 1991 presents a micellar water face cleanser for every skin character. What is Micellar Water? Micellar water is a face cleanser that is formulated with micellar technology. Bioderma's micellar water technology can effectively remove make-up, pollution, sebum and sweat. You can find micellar water products that suit your skin characteristics easily on the Bioderma website: Sensibio H2O Micellar Water for normal sensitive skin, Hydrabio H2O Micellar Water for dry and dehydrated skin, and Sébium H2O Micellar Water for combination to oily skin. Order online through our online official stores or find the nearest Bioderma sales point from your place.
The Excellence of Bioderma Micellar Water 
As the first creators of micellar water, Bioderma micellar water has many advantages for the skin over other forms of cleansers thanks to its micellar technology that is infused in an exclusive formula. Recommended by many dermatologists around the world, Bioderma micellar water is safe for daily use even if you have sensitive skin thanks to its hypoallergenic, free of alcohol and parabens formula. Not only cleansing, it will help the skin feel moisturized and refreshed with each use. Bioderma micellar water can be used by teens and adults with various skin characteristics without the risk of irritation. Find the right Bioderma micellar water for your face now!
The Most Suitable Bioderma Micellar Water for your Skin Types
Bioderma micellar water comes in various types according to the characteristics of your skin, each is strengthened by ingredients that are beneficial for each skin's needs. Here are the best Bioderma Micellar water recommendations for your skin.
Sensibio H2O Micellar Water for sensitive normal to combination skin.

Sébium H2O Micellar Water for sensitive combination to oily and acne-prone skin. 

Hydrabio H2O Micellar Water for sensitive dry and dehydrated skin. 
Choose Bioderma micellar water that suits your skin and use it regularly to cleanse and maintain your skin health.